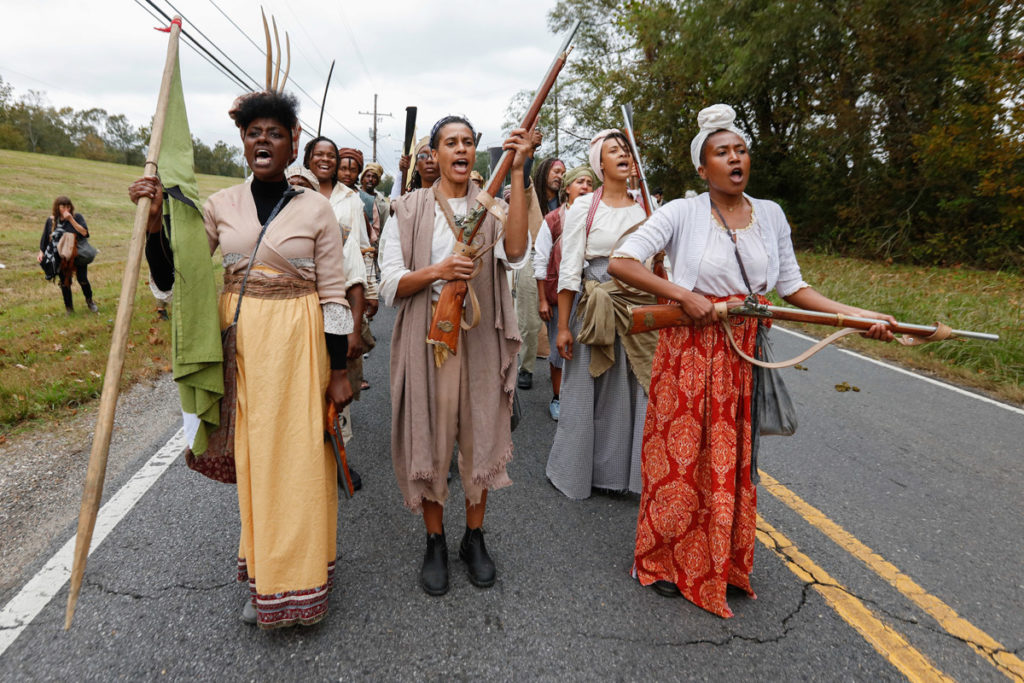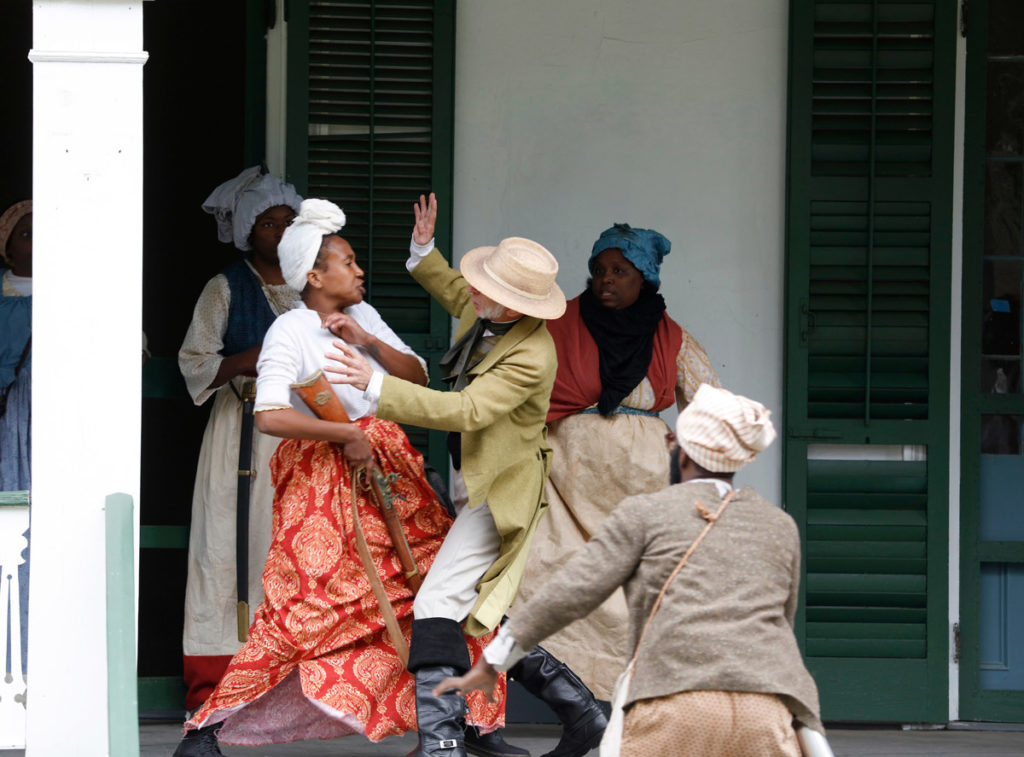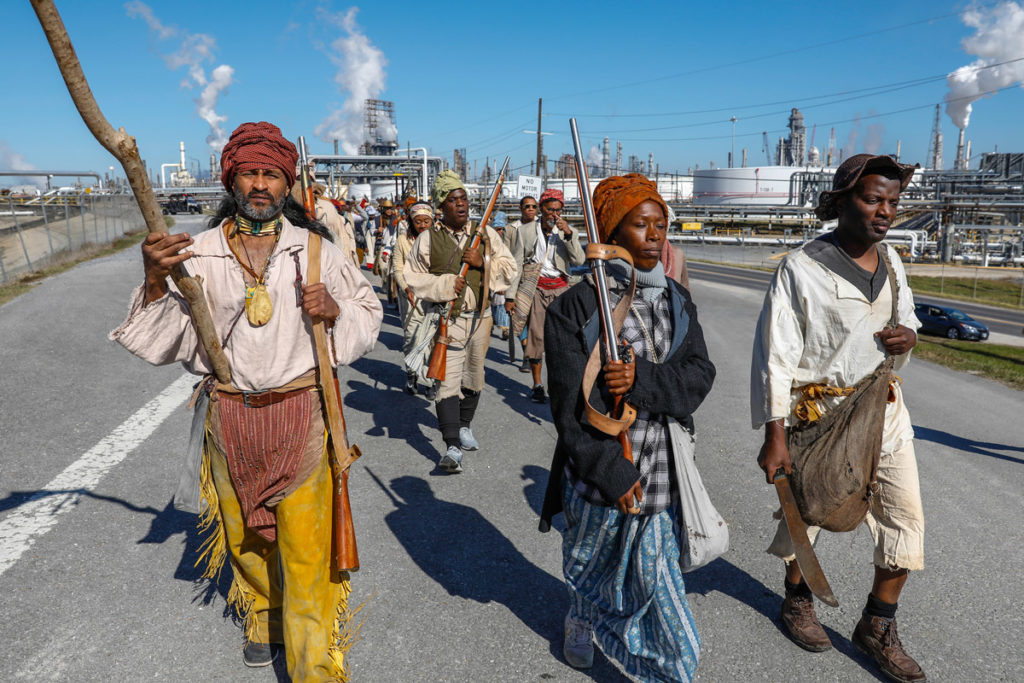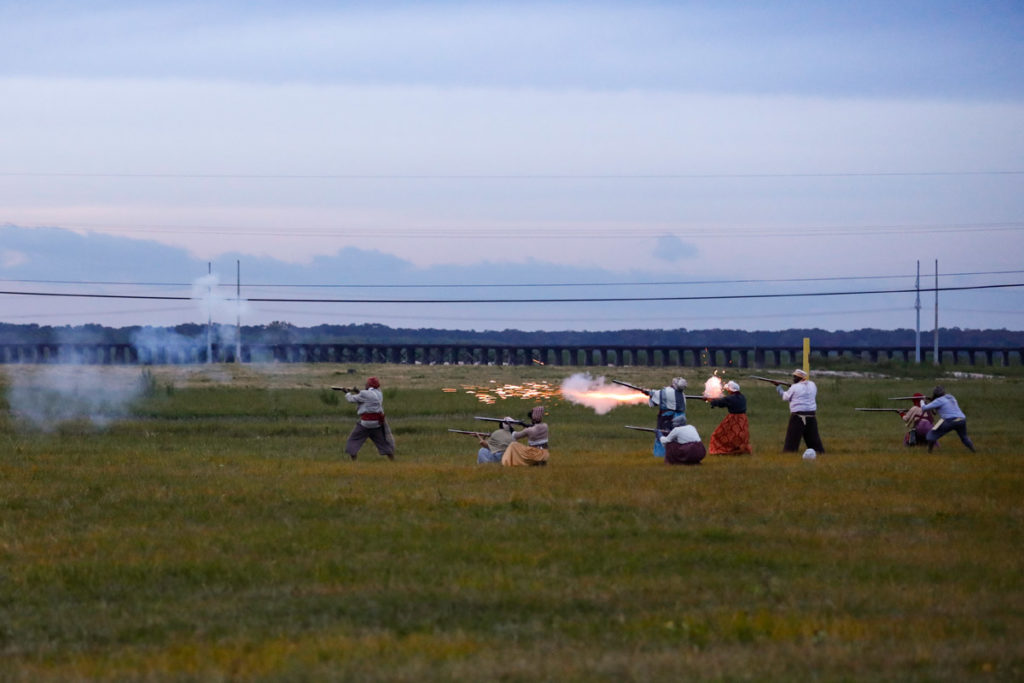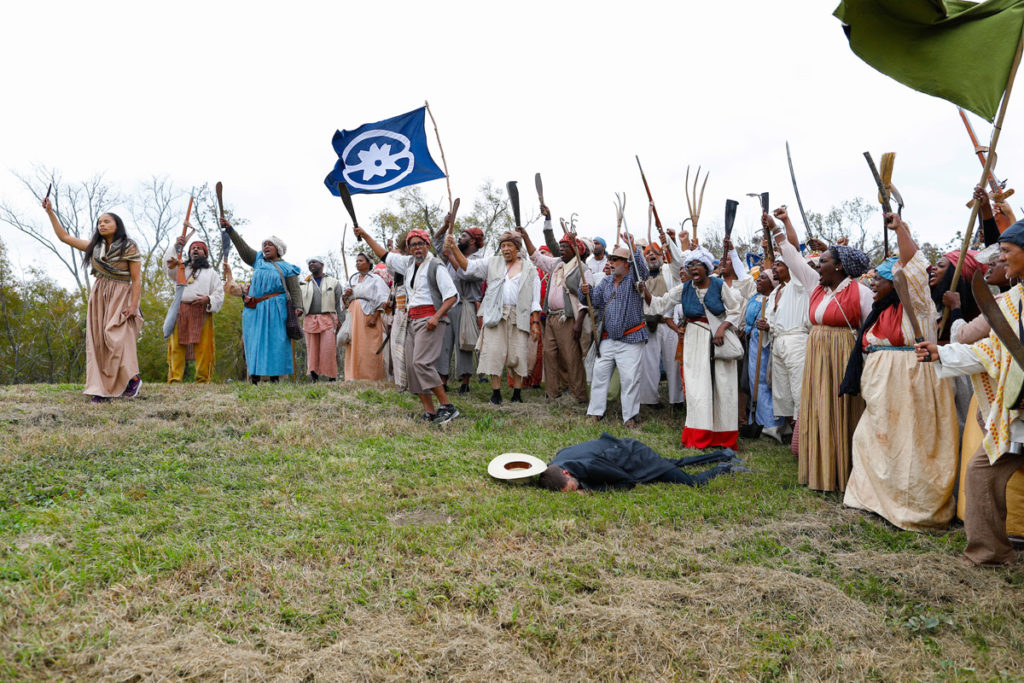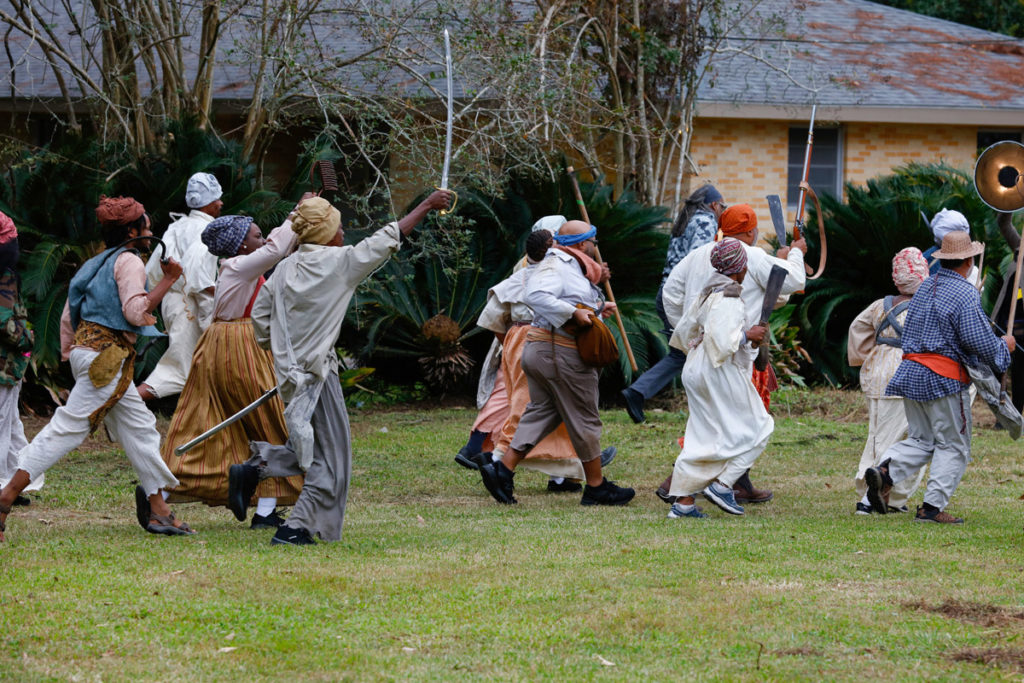 On November 8-9, 2019, hundreds of re-enactors retraced the path of the largest rebellion of enslaved people in United States history, embodying a story of resistance, freedom and revolutionary action.
Slave Rebellion Reenactment is a community-engaged artist performance and film production that, on November 8-9, 2019, reimagined the German Coast Uprising of 1811, which took place in the river parishes just outside of New Orleans. Envisioned and organized by artist Dread Scott and documented by filmmaker John Akomfrah, Slave Rebellion Reenactment (SRR) animated a suppressed history of people with an audacious plan to organize and seize Orleans Territory, to fight not just for their own emancipation, but to end slavery. It is a project about freedom.

The artwork involved hundreds of reenactors in period specific clothing marching for two days covering 26 miles. The reenactment, the culmination of a period of organizing and preparation, took place upriver from New Orleans in the locations where the 1811 revolt occurred—with the exurban communities and industry that have replaced the sugar plantations as its backdrop. The reenactment was an impressive and startling sight—hundreds of Black re-enactors, many on horses, flags flying, in 19th-century French colonial garments, singing in Creole and English to African drumming.
A key element of slave revolts was the organizing of the uprising by small groups of trusted individuals, clandestinely plotting with others in small cells. Mirroring this structure, SRR initiated several recruitment and organizing meetings of multiple small groupings of people to prepare the reenacted uprising. Extending the artwork's performative reenactment of history, the meetings took the form of conversations about why people chose to participate, about others they might involve, and why this history is important in contemporary society. The self-organization of the slave rebel reenactors was an essential part of the artwork.

There was limited fighting during the 1811 rebellion, so, in contrast to many war reenactments, much of SRR was a procession, with only occasional skirmishes. The procession was jarringly out of place as they advanced past neighborhoods, strip malls, and oil refineries. This historic anomaly formed a cognitive dissonance for viewers, opening space for people to rethink long held assumptions.
Charles Deslondes, Gilbert, Quamana, Jeesamine, and Marie Rose­–some of the leaders of the 1811 uprising–alongside the many enslaved people who were part of the revolt are unsung heroes: their vision, if known about more widely, would inspire many. Their rebellion is a profound "what if?" story. It had a small but real chance of succeeding—what would that have meant for US and world history? Understanding that the past was not predetermined opens the ability for people to dream "what if?" for the future. We hope that this project will help people of all races broaden their vision of what is possible.

SRR builds on Dread Scott's performance, Dread Scott: Decision (2012) at the Brooklyn Academy of Music. Where Dread Scott: Decision looked at American democracy's foundation in slavery, SRR shifted focus from the roots of America to the strivings of people fighting to be free of those roots. An army from the past, forged of descendants of enslaved Africans, collided with the present and the reverberations were felt by audiences and reenactors alike.

The reenactment concluded in Congo Square, a location instrumental for preserving African culture in America, with a celebration—transforming the violent suppression of the freedom fighters into a celebration of their achievement. Slave Rebellion Reenactment continued the original rebels' vision of emancipation that was embodied throughout the performance and opened the possibility for participants and audience members to imagine freedom.

To engage a variety of audiences, the project had multiple identities: the reenactment itself, a multichannel film installation of documentation from the event and the recruitment meetings, and documentary photos. Check back on this site or join our email list below for updates on progress of the film and where you may be able to see it in the future!
Press
Lead Artists
Lead Artist: Performance
Dread Scott makes revolutionary art to propel history forward. He first received national attention in 1989 when his art became the center of controversy over its transgressive use of the American flag while he was a student at the School of the Art Institute of Chicago. President G.H.W. Bush called his art "disgraceful" and the entire US Senate denounced this work and outlawed it when they passed legislation to "protect the flag."
His work has been exhibited/performed at the Whitney Museum, MoMA/PS1, BAM Fisher and galleries and street corners across the country. His work is in the collection of the Whitney Museum and he as received grants and awards from Creative Capital Foundation, The Map Fund, a 2018 Fellowship from United States Artists, and a Socially Engaged Artists Fellowship from A Blade of Grass Foundation.
Check out Dread's recent TED talk about his work shaping national dialog in 1989.
Lead Artist: Film
Renowned Ghanaian-British artist, filmmaker, and writer John Akomfrah collaborated with Dread Scott on Slave Rebellion Reenactment, to create the film documentation of the performance. Akomfrah's moving image work has contributed seminal perspectives on the black diaspora, both in the UK and around the world. Akomfrah's work gained awareness in the early 1980s as part of Black Audio Film Collective, a group of several artists founded in 1982 in response to the 1981 Brixton riots. The collective produced a number of experimental films, combining archival and found footage, interviews and in depth depictions of contemporary England. Akomfrah and Black Audio's works were remarkable for their poignant political inquiries and collage-like approach. They allowed for narratives of black British history and culture to become accessible by producing documentaries made for British Television. Throughout the 1990s Akomfrah explored contemporary British society through a wider historical lens and focused on the legacy of global colonialism. Akomfrah's work now takes many forms in multichannel video work and large-scale installations.
Watch a short interview with John about his piece Purple here.
Production Team